President's Tour of the Holy Lands
We invite you to join our President's Tour to the Holy Lands of the Bible! You place a priceless inheritance within your mental picture gallery! Your investment in this tour repays you the rest of your life...and passes to family and friends through your witness! You join for Israel only, Israel and Jordan, or Israel, Jordan and Egypt with the Nile Cruise...we work out all the details.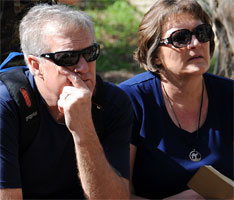 Traveling with company President Tim and his wife Jan is an experience! Their passion for the Middle East and enthusiasm for the people who live there is contagious. They have led Biblically based tours for the past 33 years. You share in the relationships they have made, their familiarity with the region, and knowledge of cross-cultural behaviors. Their pre-trip training is invaluable producing an experience that you remember the rest of your life...and, often has you planning your next tour.

Itinerary (from 2019)
---
Day 1, Thurs, March 7: You depart on an overnight flight with connections to Tel Aviv.
Day 2, Fri, March 8: Arriving at Ben Gurion Airport in Tel Aviv, you are met, assisted and transferred to our hotel for dinner and overnight. Experience the beautiful Mediterranean beach at sunset. Look to the south and see Joppa, from where Jonah sailed!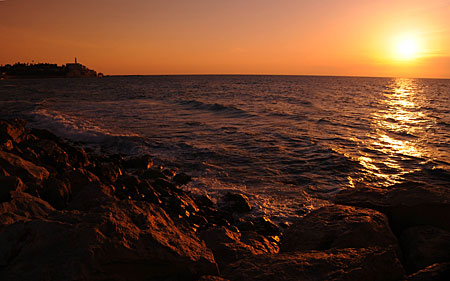 Day 3, Sat, March 9: We depart Tel Aviv driving north along the Mediterranean coast to Caesarea, the ancient Roman Capital built by Herod.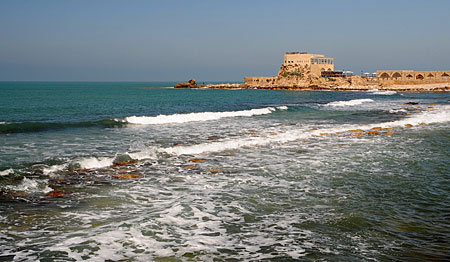 Here we see the Roman Amphitheater, Aqueduct, and Herodian Port. We continue northeast to the Valley of Armageddon and Megiddo to visit the remarkable excavations, including the famous water tunnel and King Solomon's stables.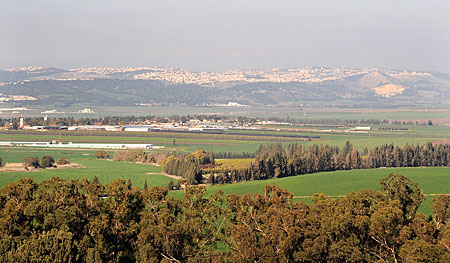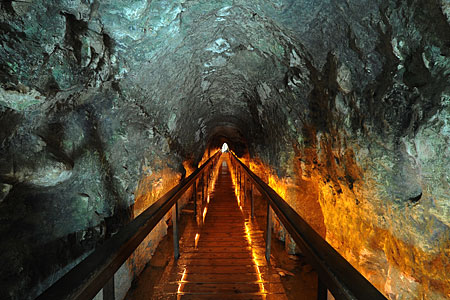 We then wind up Mt Carmel and visit Muchraka (place of the fire) where Elijah met the prophets of Baal.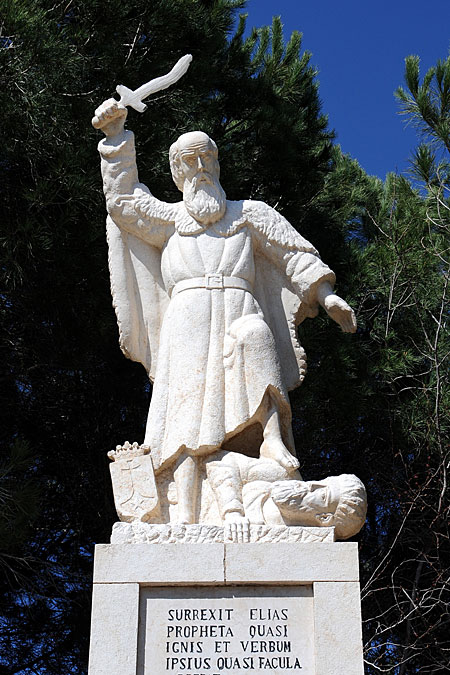 We continue northeast into Galilee and Tiberias for dinner and overnight at our hotel for 3 nights near the Sea of Galilee!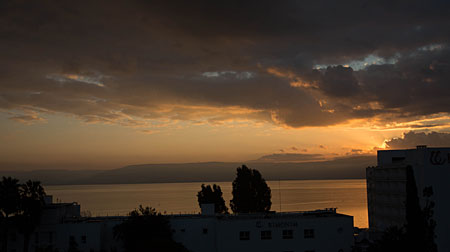 Day 4, Sun, March 10: Wake to the sun rising over the Sea of Galilee! After breakfast we drive north to Tel Dan where we see the area in which King Ahab held court. Was Jezebel sitting beside him? As we hike further on we see where King Jeroboam set up the Golden Calf as recorded in 1 Kings 12:26-30. The Dan is a real surprise, a crystal clear tributary of the Jordan River! You find it hard to believe this is Israel...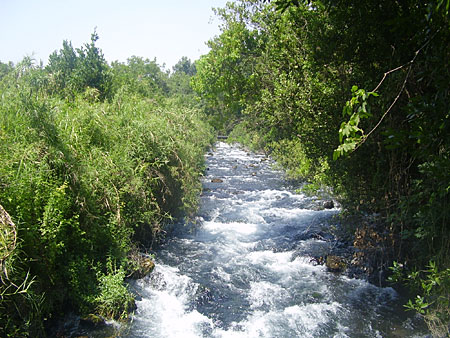 We then hike down to the spectacular Banias Falls.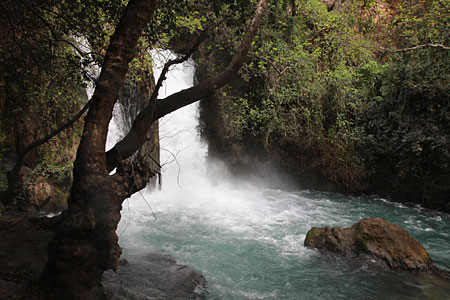 Next is Caesarea Philippi where Peter in answer to Christ's question said: "You are The Christ of God."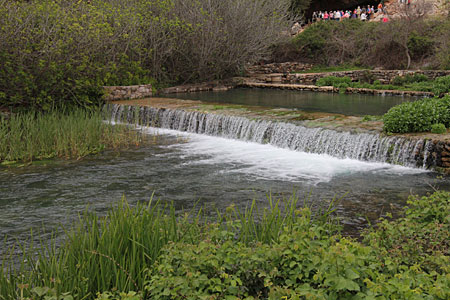 We then drive up the Golan Heights (Biblical Bashan) to view east into Syria, ending the day with a boat ride on the Sea of Galilee. We return to our Tiberias hotel for dinner and overnight.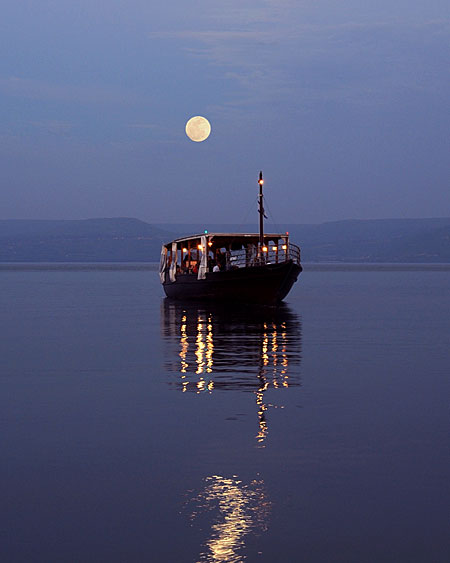 Day 5, Mon, March 11: Today is spent around and on the Sea of Galilee. We start on the Mt of Beatitudes, site of the Sermon on The Mount.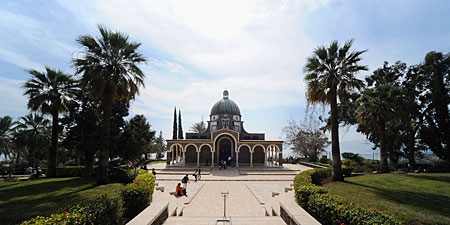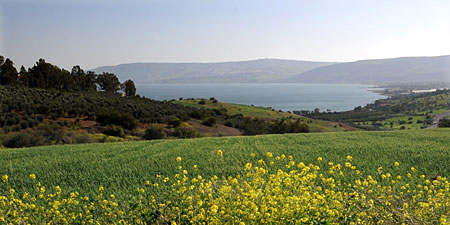 We continue to the small fishing village of Capernaum, where Jesus spent much of his ministry time. At Nof Ginosar we view the Jesus Boat, that was recovered from the shoreline mud when the Sea of Galilee fell to a very low level. The touring day ends at Yardenit, the baptismal center on the Jordan River. We return to our Tiberias hotel for dinner and overnight.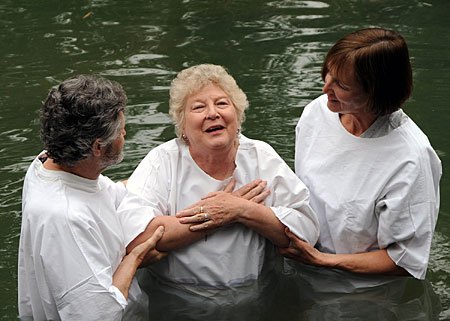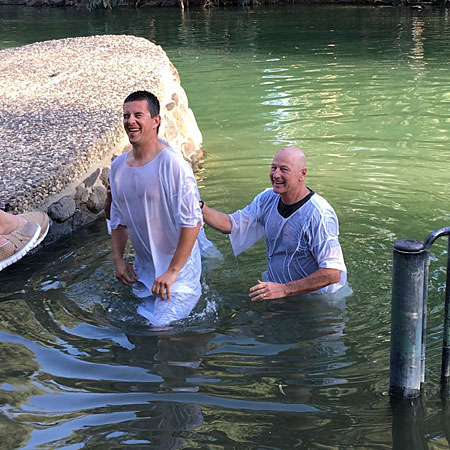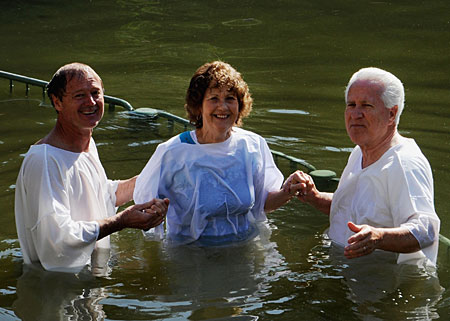 Day 6, Tues, March 12: Today we depart Tiberias passing through Cana of Galilee to Nazareth for a visit at Mary's Well. Then we visit the open air Jesus era museum at Nazareth Village.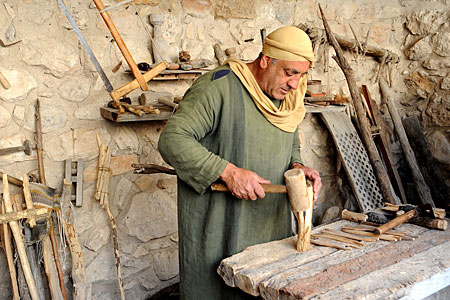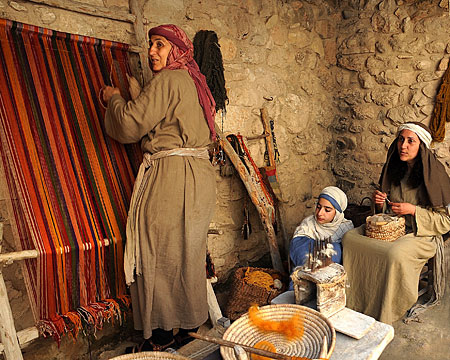 We continue to Beit Shean and a visit the Greek and Roman ruins. From here the tour goes south along the Jordan River Valley past Jericho for dinner and overnight at the Dead Sea. You can enjoy an evening float in the Dead Sea and the thick oxygen at 1500 feet below sea level provides a wonderful night of sleep at our hotel.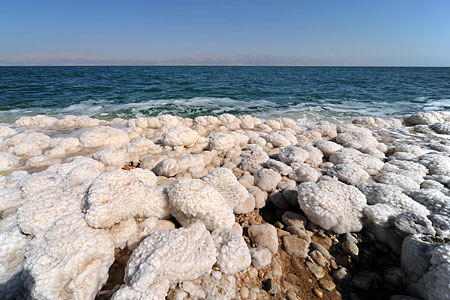 Day 7, Wed, March 13: Today we are in the wilderness! First is Masada where we view the 3 dimension museum theater, then ride the cable car to the top of the mountain to see Herod's fortress-palace, synagogue, bathhouses, and more.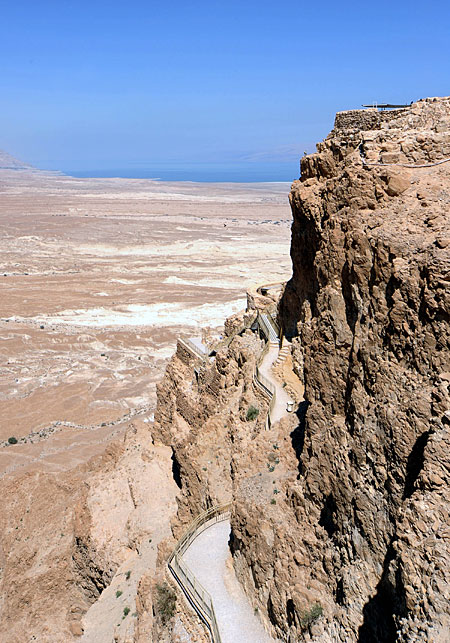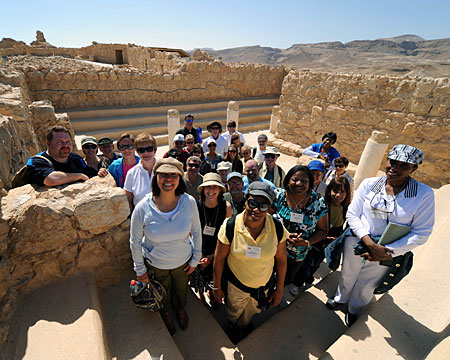 Second, we hike into the Ein Gedi Falls. This rugged area is where David hid from Saul.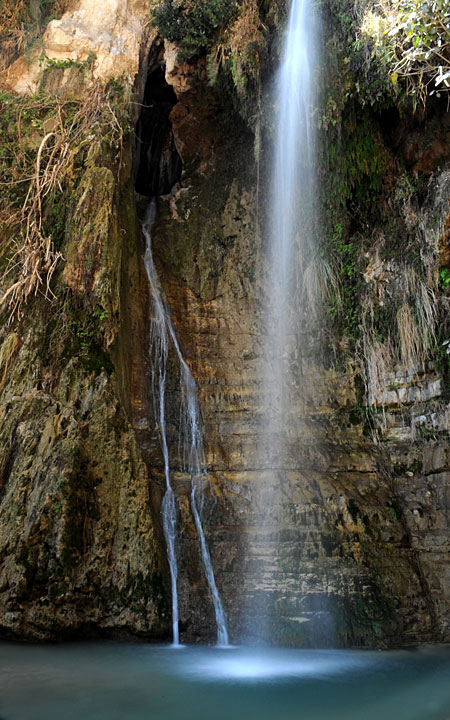 Third, we visit the Caves of Qumran, where the Dead Sea Scrolls were discovered.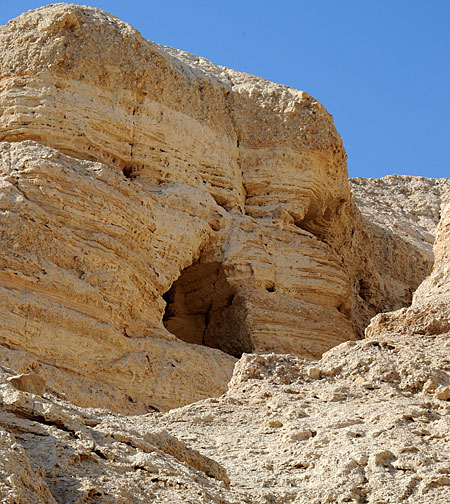 At the end of the day our bus climbs almost 5000 feet up to Jerusalem, the Holy City you have longed to see all your lives! Dinner and overnight at our Jerusalem hotel.
Day 8, Thurs, March 14: This morning we start with Bethlehem, visiting the Church of The Nativity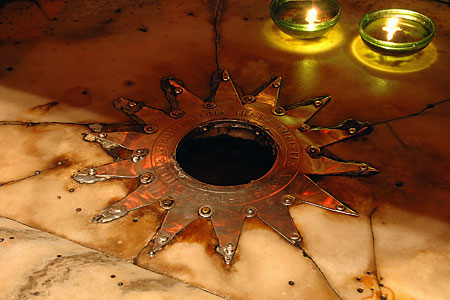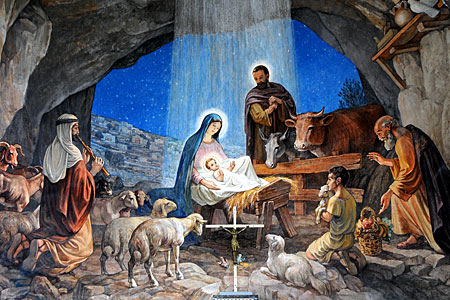 We return to Jerusalem and the Shrine of The Book where the Dead Sea Scrolls are displayed. Outside next to the Scolls building is the amazing Model of Jerusalem during the time of Christ, at 1:50 scale.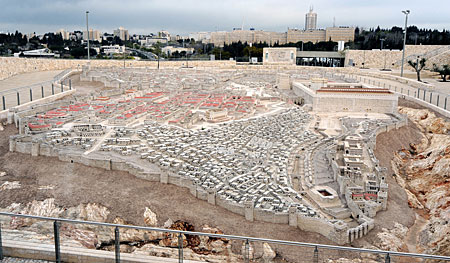 Our next visit is to the fascinating City of David – climbing and walking through ancient tunnels and waterways. We see recent discoveries, explore the Gihon Spring, the Pool of Siloam and enter a newly excavated tunnel on the Roman pavement stones from the time of Christ. This tunnel exits at the southwest corner of Temple Mount. Dinner and overnight Jerusalem.
DAY 8 OPTIONAL NIGHT BIKE TOUR: Experience a Jerusalem few see. Fantastic! Ride streets, park pathways, and back alleys after dark. Highlight is riding through Quarters of the Old City and arriving at a Western Wall overlook. Ride lasts 3-4 hours and covers 5-6 miles with several long hills to ride up. You need to be in good shape for this ride. Bike, helmet, lights, and water are provided. Cost is $60-75 per person depending on how many participate. Highly rated on Trip Advisor.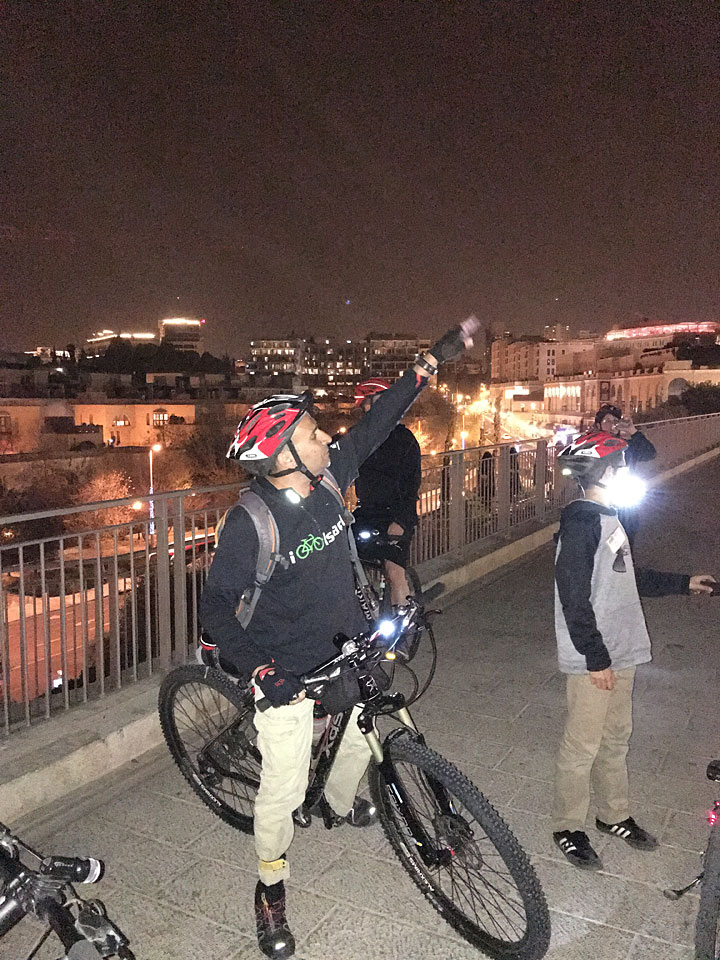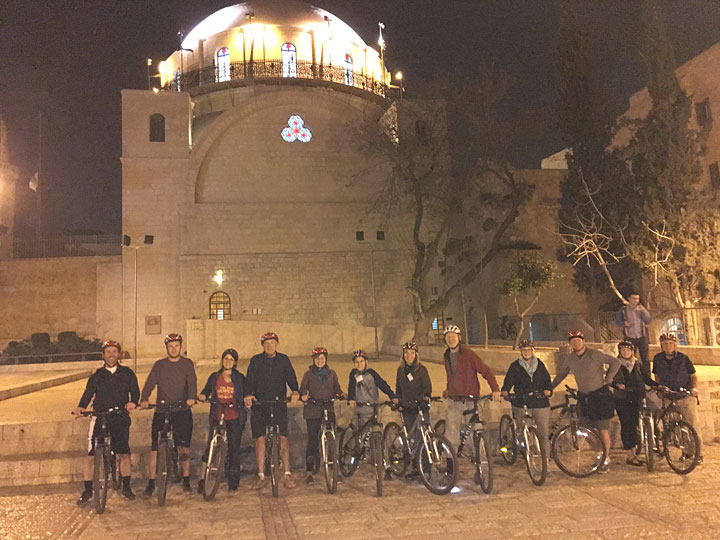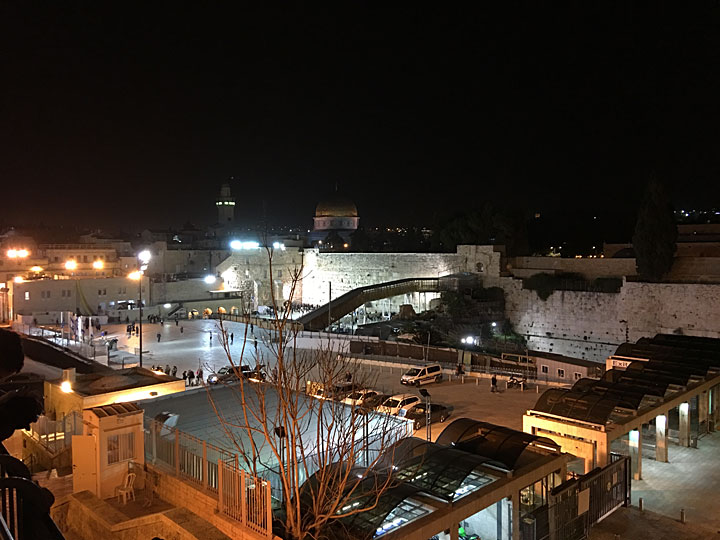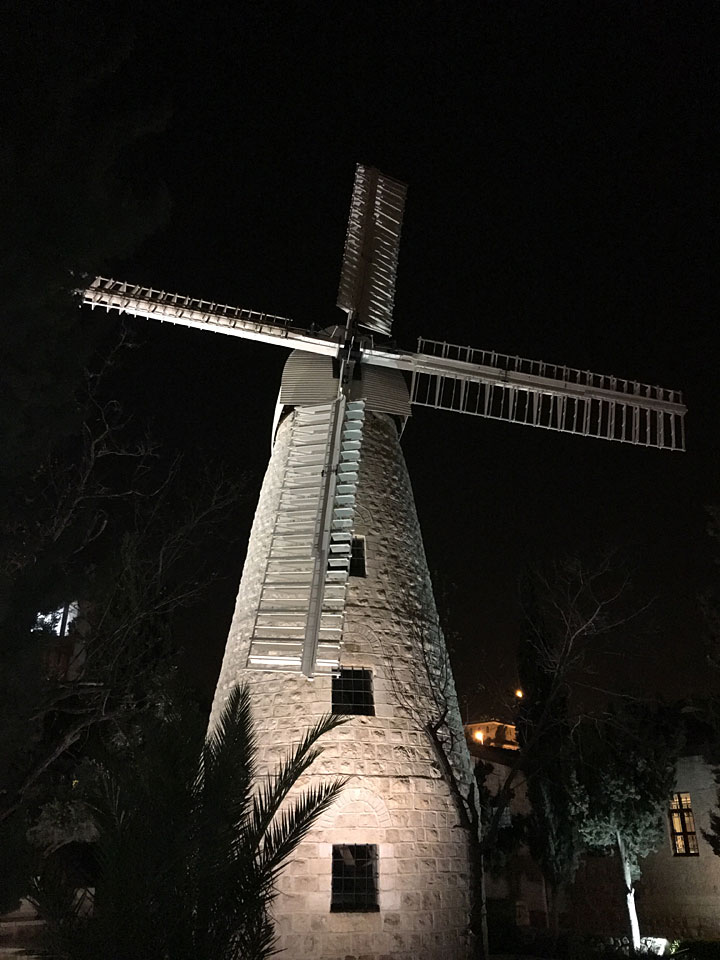 Day 9, Fri, March 15: This is a very special spiritual day in Jerusalem. We drive to the top of the Mount of Olives for a panoramic view.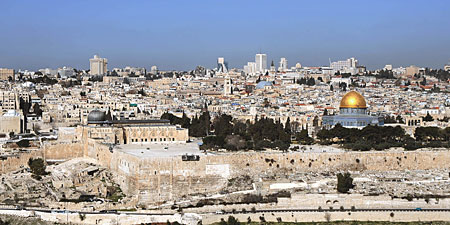 We then walk down to the Garden of Gethsemane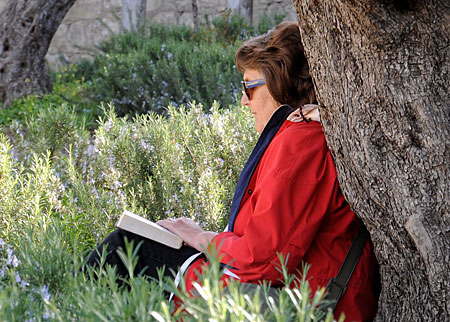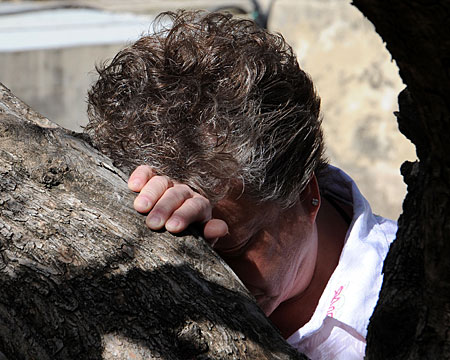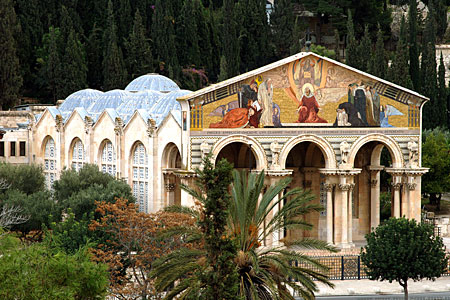 We continue to the Pool of Bethesda and the Church of St. Anne and walk the Via Dolorosa. We then circle the Old City on our bus to visit Mount Zion where the Church of St. Peter in Gallicantu, King David's Tomb, and the traditional Upper Room of The Last Supper. Our tour of Israel ends with a visit and communion at the Garden Tomb. Return to our hotel for dinner and overnight.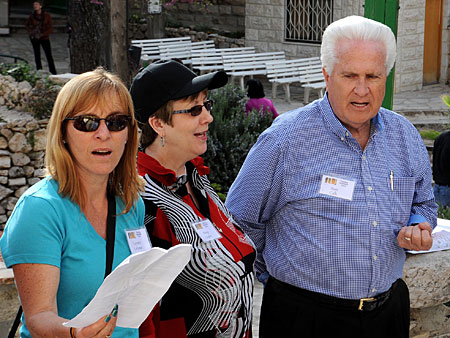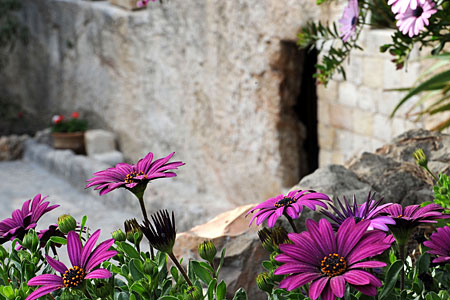 Day 10, Sat, March 16: Free day in Jerusalem! Explore on your own, sleep in, wash clothes, walk the Old City walls, shop, rest, pray. We have a page of optional places to visit and things to do in Jerusalem, please ask us to email this to you. (Those departing the tour following the Israel portion are transferred to Ben Gurion Airport for flights later in the evening).
Day 11, Sun, March 17: This morning we drive to the Israel border and cross into Jordan. We are met by our Jordanian guide and drive east to visit Jerash (ancient Gerasa), one of the Decapolis cities mentioned in the Bible, and one of the largest and best preserved Roman cities located outside Rome.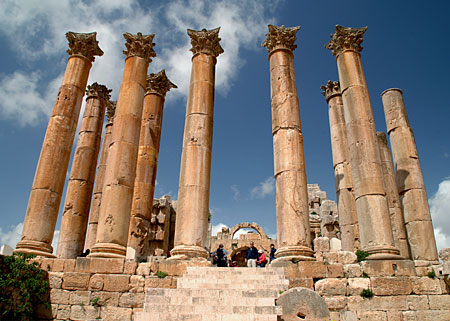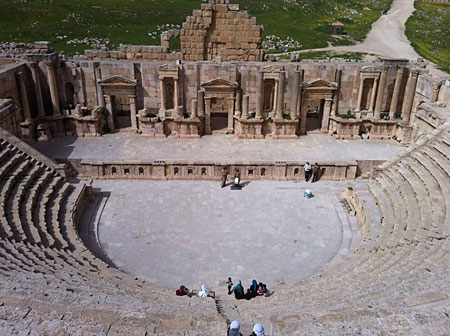 Continue south to the Capital of Jordan, Amman for dinner and overnight.
Day 12, Mon, March 18: Today we travel south from Amman on the King's Highway to Petra. On the way we visit Madaba, a Moabite city mentioned in the Exodus account in Numbers 21:30 and Joshua 13:9. The present-day city is known for the many mosaics found in the remains of floors in private homes and public buildings. Madaba is the site of the famed Mosaic Map which is an index map of the region preserved in the floor of the Basilica of St. George. It is the earliest remaining representation of Jerusalem. The map provides details of 6th century Jerusalem landmarks. This map is one key in developing scholarly knowledge about the physical layout of Jerusalem after the year 70.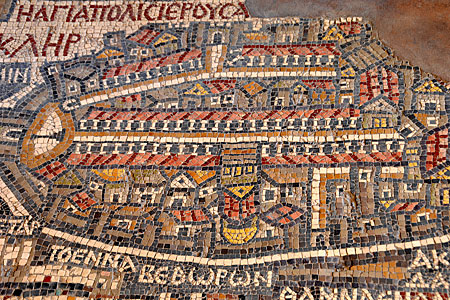 We continue to Mt Nebo to stand in the sandals of Moses: "Then Moses climbed Mt Nebo from the plains of Moab to the top of Pisgah, across from Jericho. There the Lord showed him the whole land...then the Lord said to him, This is the land I promised on oath to Abraham, Isaac and Jacob when I said, I will give it to your descendants. I have let you see it with your eyes, but you will not cross over into it. And Moses the servant of the Lord died there in Moab, as the Lord had said. He buried him in Moab, in the valley opposite Beth Peor, but to this day no one knows where his grave is." – Deut. 34.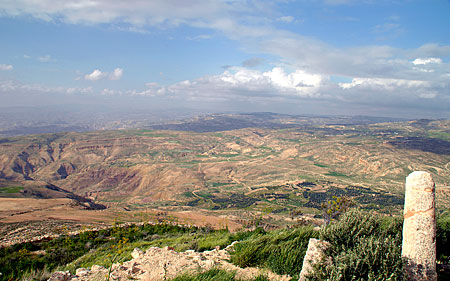 Day 13, Tues, March 19: Today we spend a full day exploring Petra, the city that was carved into the rose-red Sharah Mountains by the Nabateans and lost to civilization until re-discovered by the Swiss explorer Burkhardt. We enter this World Heritage site through the Siq, a narrow fissure between the cliffs, to reach the Treasury, Roman Theater, Courts, Temple of the Winged Lion and other monuments. Note: this is a good place to ride a camel. OPTIONAL HIKE: If conditions permit and you are physically able we can take a unique exit out of Petra. When I (Tim) was there a couple years ago my guide and I hiked for 1 1/2 hours without seeing anyone else, a WONDERFUL new experience!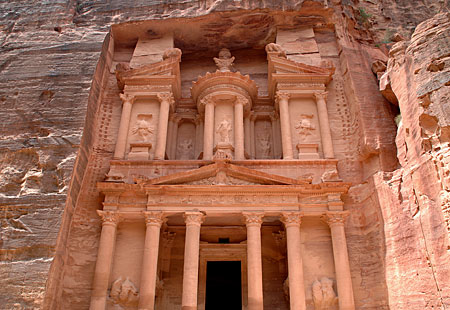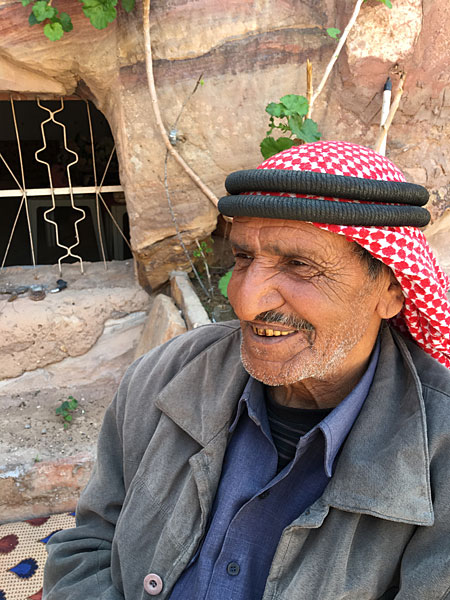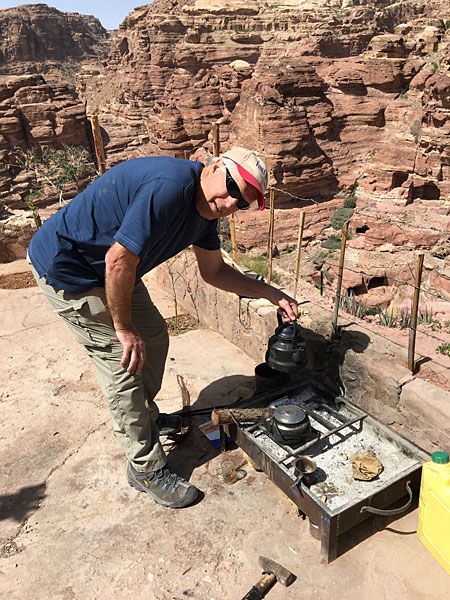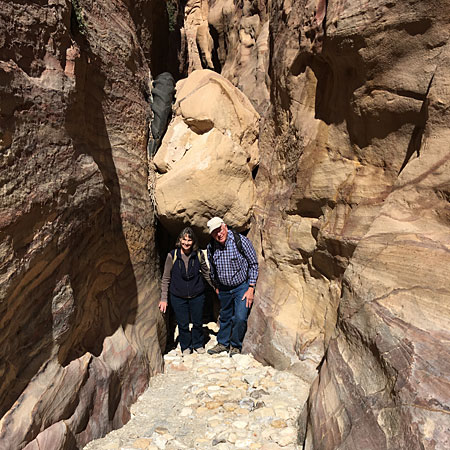 At the end of the day we drive south to Wadi Rum for dinner and overnight at Sun City Tent Camp...a desert night of sand, stars and a unique evening meal...an experience you will never forget! (each tent has private bathroom facilities)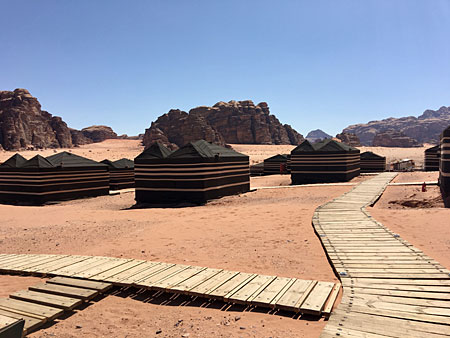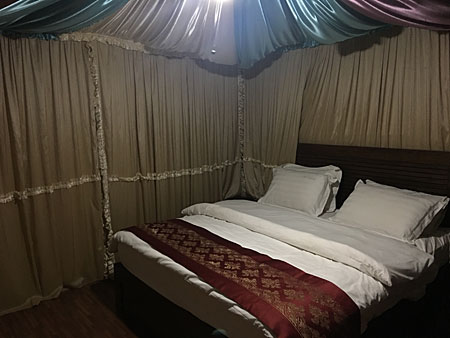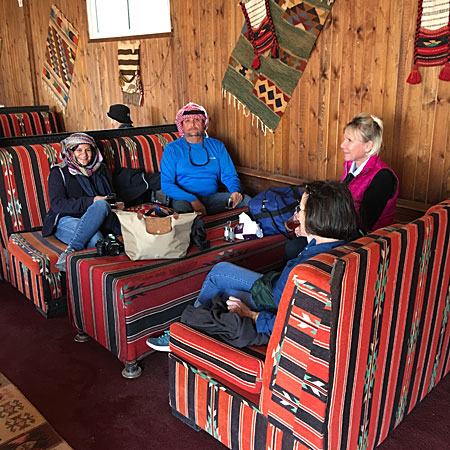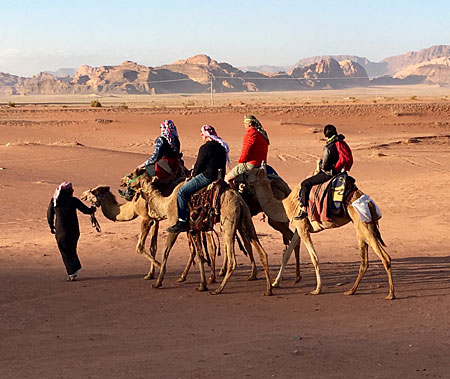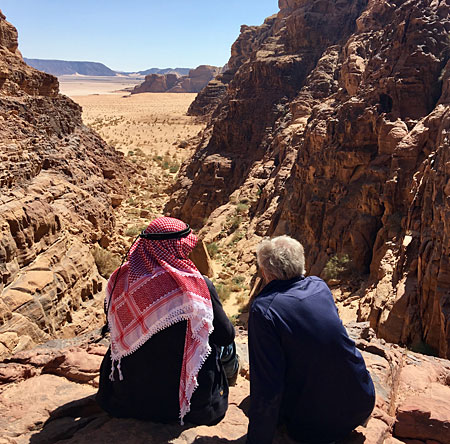 Day 14, Wed, March 20: This morning we have an amazing Jeep ride in Wadi Rum. We see where "The Martian" was filmed. We then depart Wadi Rum and travel one hour south to Aqaba for a free afternoon. You can swim in the ocean or hotel pool, snorkle, rest! Dinner and overnight Aqaba at the Intercontinenal Hotel.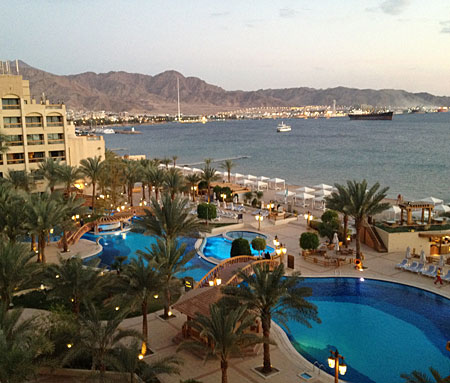 Day 15, Thurs, March 21: Free day to enjoy the wonderful Intercontinental resort.
Day 16, Fri, March 22: We depart Aqaba and cross into Israel for short transfer to the Egyptian border at Taba. Continue to Mt. Sinai for dinner and overnight - HIGHLIGHT - staying within St. Catherine's Monasteryand visiting the fantastic newly remodeled library.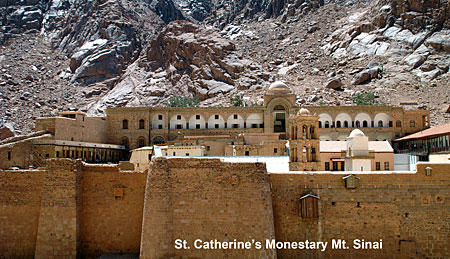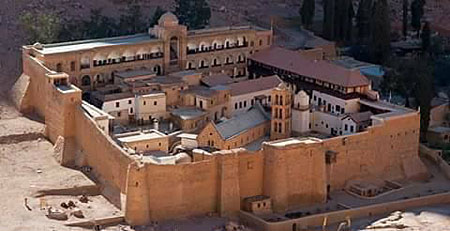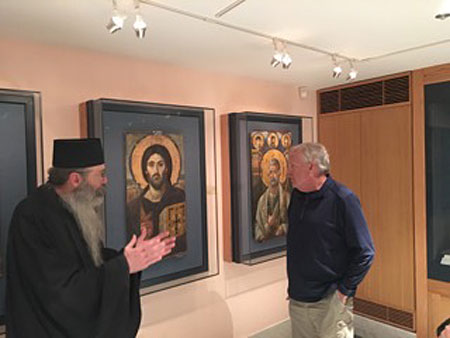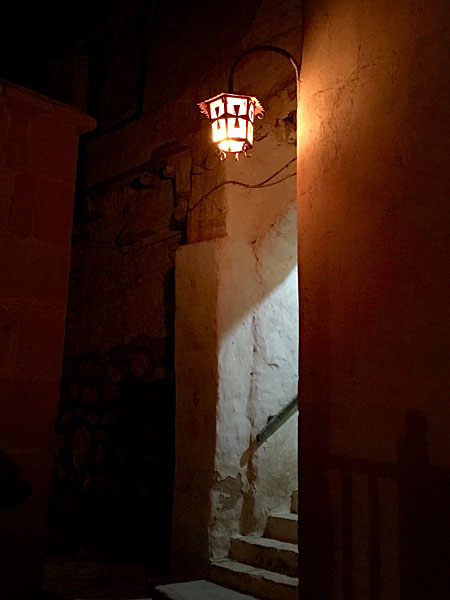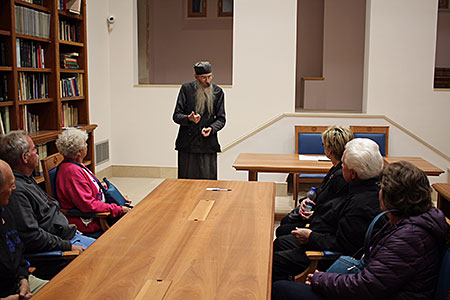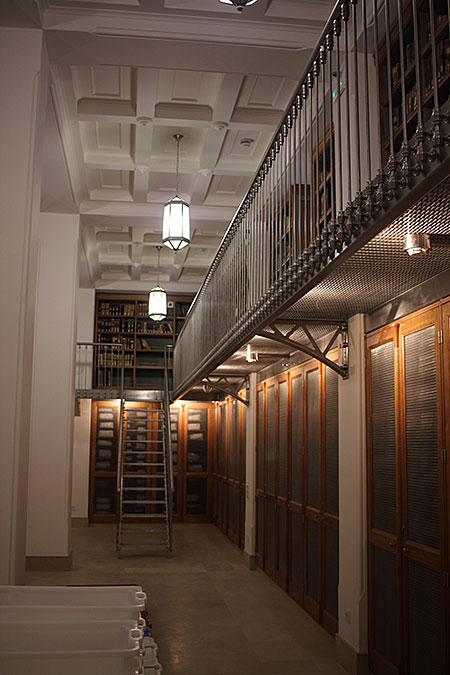 Day 17, Sat, March 23: Middle of the night hike to the top of Mt. Sinai to arrive in time for the sunrise. This is a difficult and steep 3-4 hour hike up rough rocky mountain paths...but it is so amazing and so worth the effort if you are able to complete the hike. Camels are available to ride for about 3/4 of the way up and this ride can be an "other wordly" experience as well. You might imagine you are traveling in the time of Abraham and Sarah! Cost: camel ride (budget $25), snacks and tea (a few dollars), tip for camel and camel owner ($5-10). Be sure to have a good flashlight and warm clothing.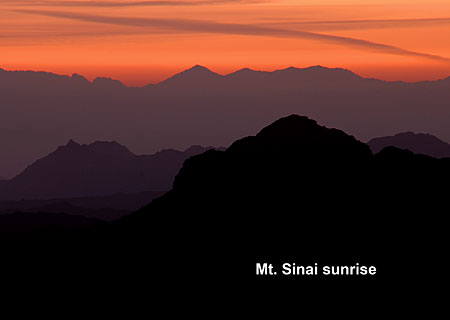 Return to hotel for a shower and breakfast then drive across the Sinai Desert in reverse of the traditional Exodus route passing under the Suez Canal into Cairo. You'll have plenty of time to catch up on your lost sleep as this is a drive that takes most of the day. Carry some snacks with you for this day. Dinner and overnight Cairo.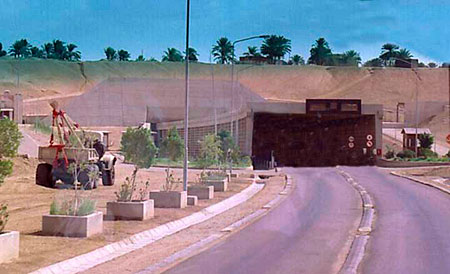 Day 18, Sun, March 24: Tour Cairo: take a "Christmas card picture" on camels in front of the pyramids at Giza; explore the Sphinx; enjoy a small fraction of the Egyptian Museum and King Tut's treasures. Dinner and overnight Cairo. Pyramids at Giza.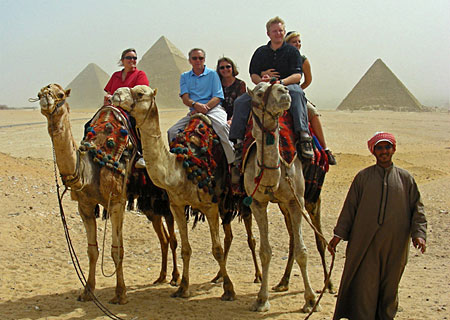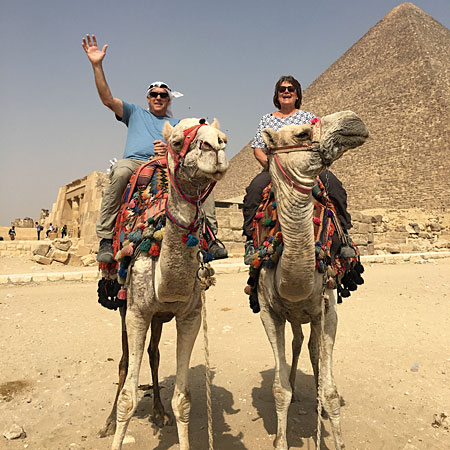 the Sphinx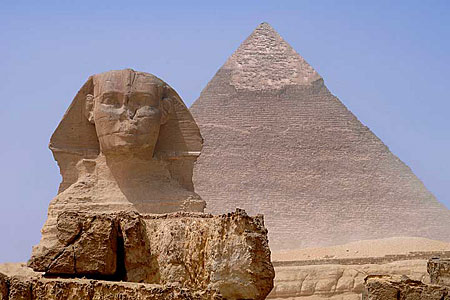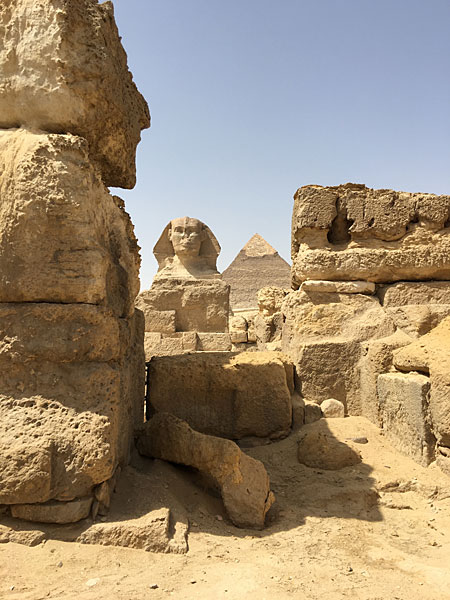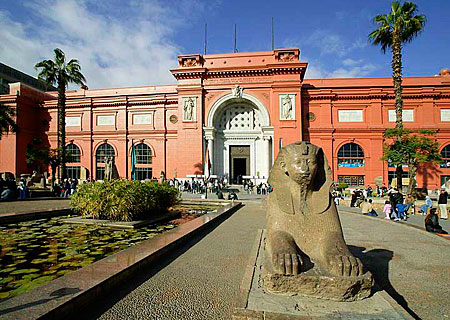 Day 19, Mon, March 25: Some of the group flies home today the others take an early morning flight to Luxor (Thebes of the Bible) to start our time in Upper Egypt.
Visit East Bank sites: Karnak which is a vast open-air museum, the second largest ancient religious site in the world. Dinner and overnight Luxor. In the evening we visit Luxor Temple.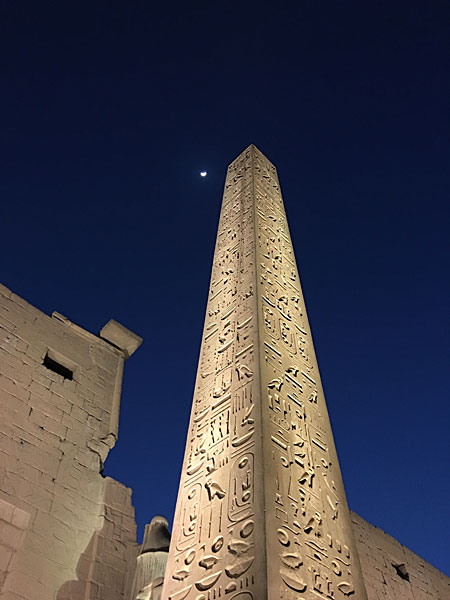 Day 20, Tues, March 26: Morning visit to the Valley of the Kings and enter several of the burial vaults to view the wall paintings. The size and depth of these tombs is astonishing. This is where King Tut's tomb is located.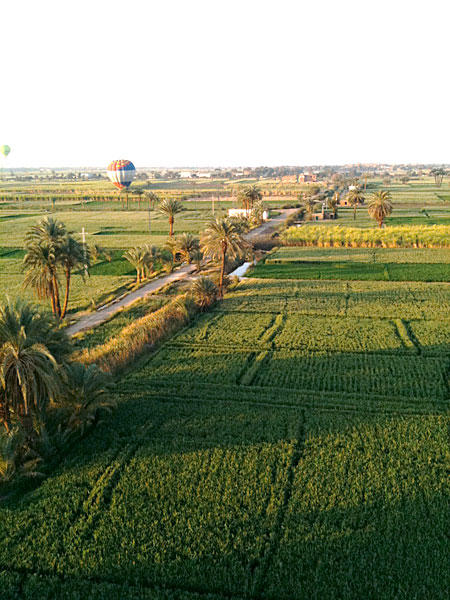 We now start our Nile Cruise on an amazing Dahabeya. It has deluxe rooms for 14 passengers sharing double. The Dahabya moves slowly up the Nile and you see farmers on the banks, animals on islands in the middle of the river, hear braying donkeys and calls to prayer. Really a surreal experience. Breakfast, lunch and dinner are created by our private chef onboard. Our Nile Cruise departs in early afternoon to Edfu (please click and review on wikipedia). A splendid afternoon aboard awaits you; have coffee, tea or a coke on the top deck and take in the experience.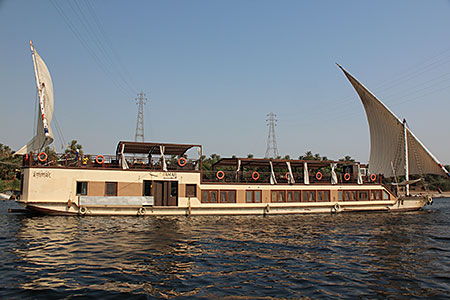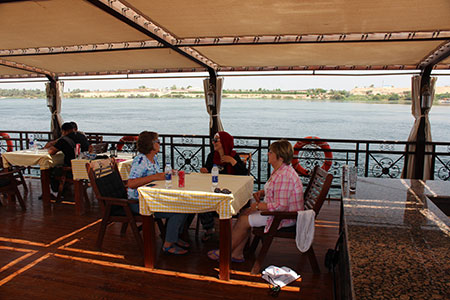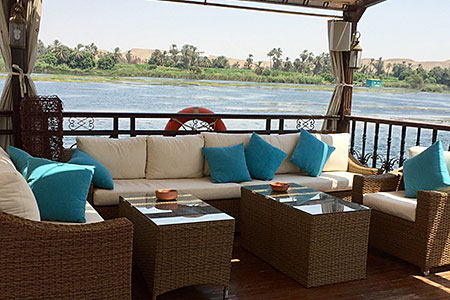 Day 21, Wed, March 27: We continue on Nile Cruise to Kom Ombo (please click and review on wikipedia), and other unique sites the big ships do not visit. Breakfast, lunch and dinner onboard.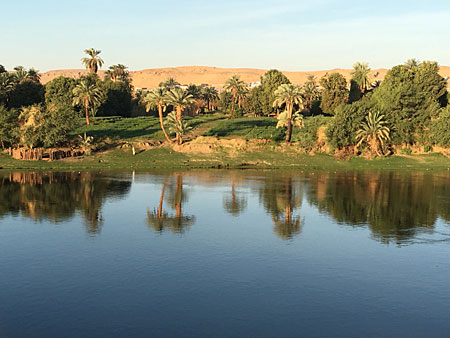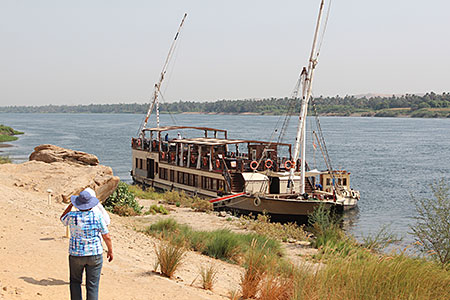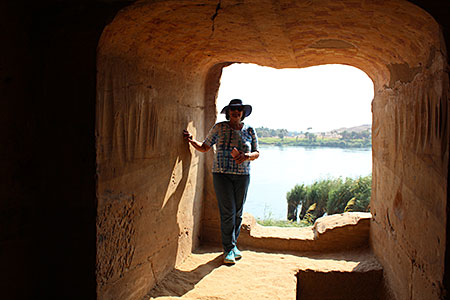 Day 22, Thurs, March 28: Quiet day on the Nile.
Day 23, Fri, March 29: Our Nile Cruise arrives at Aswan. We visit Aswan Dam: This dam has completely changed the annual flooding of the Nile. It is huge!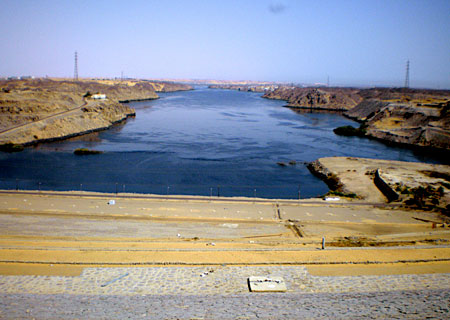 Philae Island: The temple complex here was completely moved numbered-stone by numbered-stone and rebuilt after the 2 Aswan dams were built. The small boat ride to the island is a great experience.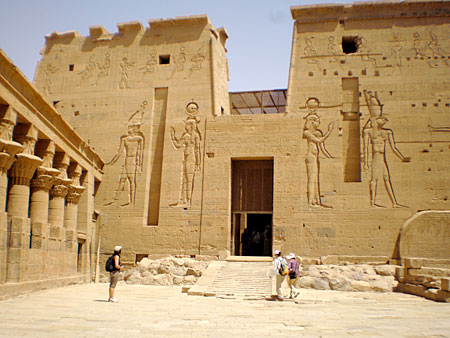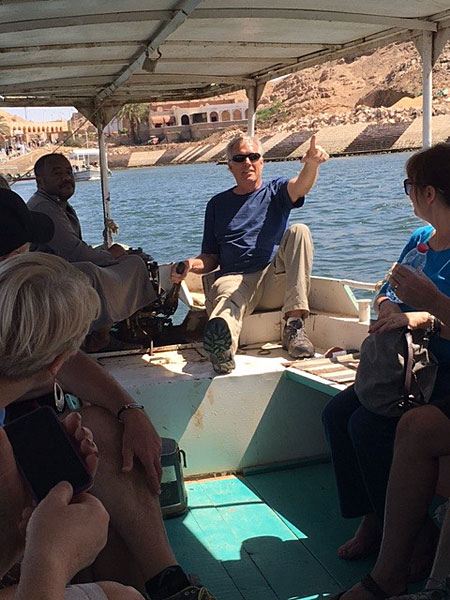 We continue to the site of the unfinished Obelisk in the granite quarries. The builders started cutting it out of solid rock and discovered a crack which has left the Obelisk in place for us to see how they were created. The Egyptian method of transporting these immense Obelisks downriver and raising them is a story you'll want to hear! We end the day with a sail on the Nile (which one of you might captain!). Dinner and overnight Aswan.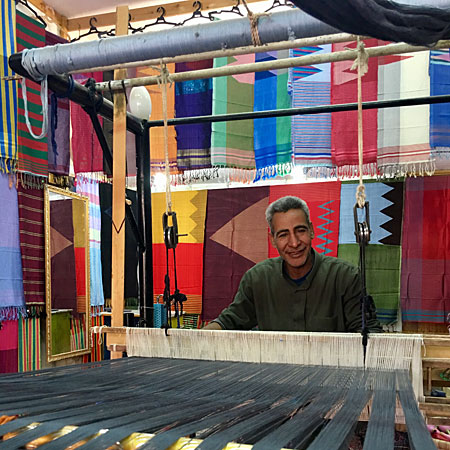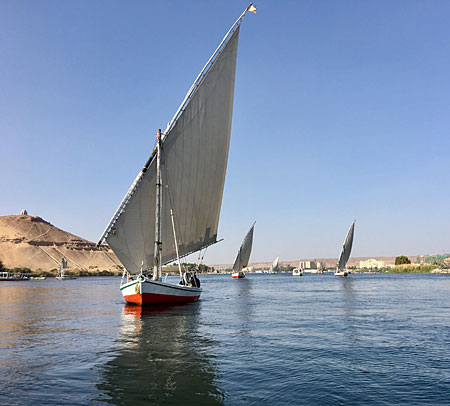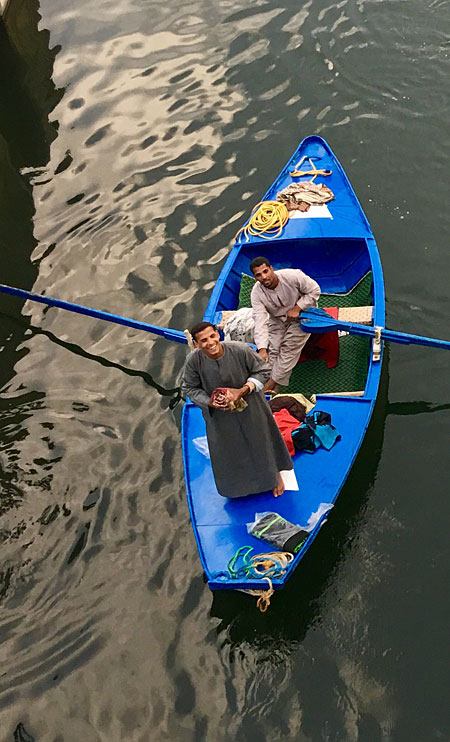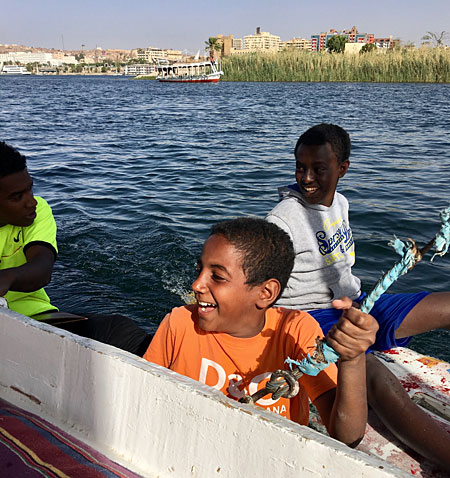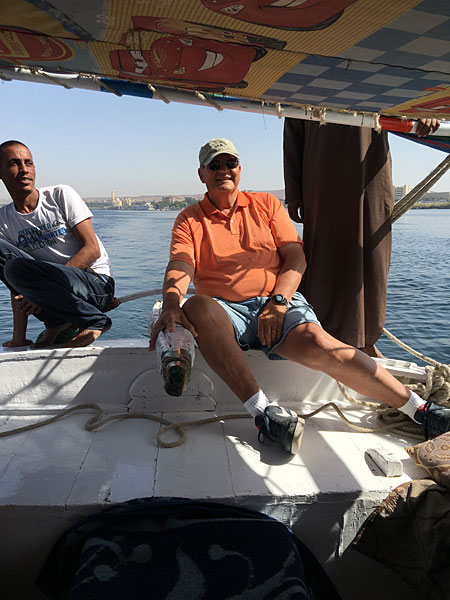 Day 24, Sat, March 30: Continue touring Aswan, then flight from Aswan to Cairo, balance of afternoon free at our hotel (with it's many amenities).
Day 25, Sun, March 31: Transfer to Cairo airport for flight home with this amazing tour dancing in your head! Arrive home same day.
---
PRICING AND ENROLLMENT FORM
Land Prices (does not include airfare - call for a quote)
ISRAEL/JORDAN/EGYPT/NILE CRUISE $7198 • SS** $899 (for Egypt)
ISRAEL AND JORDAN $3998* PER PERSON SHARING DOUBLE • SS** $349 (for Jordan)
ISRAEL $2599* PER PERSON SHARING DOUBLE • SS** $749 (for Israel)
*Updated 8/6/18, land tour price in Israel based on minimum of 15 with a maximum of 20 tour members.
(tour hosts not included in count) **Single room supplement (you must add ss for each country)
Extensions: pricing is based on group size. Typically some return home following the Israel portion of the tour due to time and/or financial constraints. Our company policy is to operate tours and extensions regardless of size because this is may be the one and only time our clients have the opportunity to take this tour and they do not want to miss walking in the footsteps of the Lord Jesus Christ, experiencing Petra or marveling at the Pyramids, for example. Many companies cancel tours if they are small...our tours continue even if the groups are under 15. This requires a per person surcharge for less than 15 as follows: Israel: 6 @ $300; 8 @ $250; 10 @ $200; 12 @ $100 • Jordan: 6 @ $350; 8 @ $300; 10 @ $200 • Egypt with Nile Cruise: 6 @ $500; 8 @ $400; 10 @ $300. When counting, the total number does not include tour leaders, hosts and guides.
---
Price above includes:transfers, entrance fees, first class hotels, guides, deluxe a/c vehicles, breakfast and dinner at hotels: breakfast, lunch and dinner on Nile cruise.
Price above does not include: (1) flights (2) lunches (3) If continuing from Israel, there are exit taxes in both Israel and Jordan (4) Egypt visa - budget a total of $100 (5) travel insurance - based on tour cost and your age, call our office for quote (6) personal items such as cleaning, room service, phone calls, bottled water, cokes, drinks at meals (7) tips for guides, drivers and hotel dining staff - budget $120 for Israel, $100 for Jordan, $180 for Egypt with cruise.
Name______________________________(exact full passport name and birthdate)
Name you go by_____________________
Address____________________________________
City_________________ State____ Zip__________
Phone_______________________
Email___________________@_____________________
Please call to make reservation: 800-777-7657 or 208-386-9277. Non-refundable deposit due with reservation: $350 for Israel; $500 for Israel and Jordan; $750 for Israel, Jordan and Egypt. Deposit can be made with Visa or Mastercard with no bank surcharge. If paying by check make payable to: Training Unlimited Tours LLC and mail to Box 8206, Boise, ID 83707. For final payment Visa and Mastercard are accepted for an additional 3% to cover bankcard surcharge. If you cancel tour deposits are non-refundable and non-transferable. Flights: upon receipt of your deposit your flights will be booked and we will contact you for payment of the airfare. If you have frequent flyer miles you can certainly use those. Balance due January 15, 2019. Once final payment is made there are no refunds should you cancel the tour. BUY TRAVEL INSURANCE FROM US OR ANOTHER COMPANY! Email: cowles.tim@gmail.com
Terms and Conditions
Air transportation: once airline tickets are issued they are non-refundable or refundable only with a stiff airline penalty. We highly recommend purchasing Travel Insurance to cover non-refundable tickets or tickets with stiff penalties! Hotels: first class rooms based on two persons sharing twin-bedded room with private bath and shower. Meals: breakfast and dinner throughout tour at hotels. Sightseeing: as per itinerary on this website with fully licensed, Biblically knowledgeable, English speaking guides. The right is reserved to vary the sequence of the tour or make substitutions, if necessary. All transfers and sightseeing by private, deluxe motor coach. Transfers/baggage: included is the transfer of passenger's baggage allowed by airlines and hotels (we advise one medium sized suitcase up to 50 lbs and one soft sided carry on bag). Excess baggage is the responsibility of passenger. Delivery of the baggage by the passenger to the airline or motor coach shall be deemed a release of the tour operator from any liability whatsoever, resulting in loss, damage, theft, weather, delay in transit during all portions of this tour. Again, Travel Insurance which covers such losses above is highly recommended! Passport: it is the responsibility of the tour participant to have a current passport with at least 4 months left before renewal at time of departure. TRIP CANCELLATION, BAGGAGE, AND MEDICAL INSURANCE HIGHLY RECOMMENDED. Training Unlimited Tours LLC and Training Unlimited acts as agents and are responsible to the tour participant in making arrangements for all services and accommondations offered. No person other than Training Unlimited Tours LLC and Training Unlimited has the authority to vary, add, amplify, or waive any description, representation, term or condition set forth in this offer. In the event accommodations or services herein cannot be supplied, or there are changes in the itinerary due to delays, political situations, or other causes beyond the control of Training Unlimited Tours LLC and Training Unlimited, they will supply comparable services and accommodations. Additional expenses, if any, shall be borne by participant. The participant waives any claim against Training Unlimited Tours LLC and Training Unlimited for any damage or loss of property, injury or death, due to any act of neglicence on the part of any airline, hotel, bus, ship, or any person rendering any part of the services or accommadations included on this tour. Training Unlimited Tours LLC and Training Unlimited shall not be responsible for any delays, substitutions of equipment, or any act or omission whatsoever by the air carrier, its agents, servants or employees. The right of the participant is reserved to claim against the carrier. In the event the tour is cancelled by the operators, it shall have no responsibility beyond the refund of all deposits paid by the tour participant. These conditions shall be deemed a part of this tour program and agreement between Training Unlimited Tours LLC and Training Unlimited and the tour participant.
I HAVE READ AND ACCEPT TERMS AND CONDITIONS DIRECTLY ABOVE:

_______________________________________
I REQUEST THE PURCHASE OF TRAVELEX TRAVEL INSURANCE (you will be contacted with the price before we order this insurance). Birthdate for pricing:________________________

I DECLINE TRAVEL INSURANCE:___________________________________